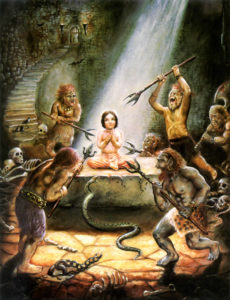 During yesterday class on Skype for Santo Domingo devotees, I was asked one question, if we should call Prahlada "Prahlada Maharaja" or "Bhakta Prahlada".
Bhakta means devotee, so Prahlada is a devotee.
However Srila Prabhupada called him "Prahlada Maharaja" and we should follow his footsteps on everything he did, details or not details.
Krishna Consciousness is not inventing new things. Rather it is discovering the world of the great Acaryas.
tarko 'pratiṣṭhaḥ śrutayo vibhinnā
nāsāv ṛṣir yasya mataṁ na bhinnam
dharmasya tattvaṁ nihitaṁ guhāyāṁ
mahājano yena gataḥ sa panthāḥ
Śrī Caitanya Mahāprabhu continued, "'Dry arguments are inconclusive. A great personality whose opinion does not differ from others is not considered a great sage. Simply by studying the Vedas, which are variegated, one cannot come to the right path by which religious principles are understood. The solid truth of religious principles is hidden in the heart of an unadulterated, self-realized person. Consequently, as the śāstras confirm, one should accept whatever progressive path the mahājanas advocate.'"
This is a verse spoken by Yudhiṣṭhira Mahārāja in the Mahābhārata, Vana-pārva (313.117)
Manonatha Dasa (ACBSP)
18 May 2019
Post view 293 times from March 2020