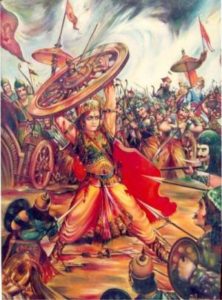 #Abhimanyu  was the heroic son of Arjuna, the central figure of the Mahabharata, by his wife Subhadra.
Genealogy.
He was descended from Visnu in this order:
Brahma
Atri
Candra
Budha
Pururavas
Ayus
Nahusa
Yayati
Puru
Janamejaya-
Pracinva –
Pravira
Namasyu
Vitabhaya
Sundu
Bahuvidha
Samyati
Rahovadi
Raudrasva
Matinara
Santurodha
Dusyanta
Bharata
Brhatksatra
Hasti
Ajamidha
Riksa
Samvarana
Kuru
Jahnu
Suratha
Viduratha
Sarvabhauma
Jayatsena
Raviya
Bhavuka
Cakroddhata
Devatithi
Riksa
Bhima
Pratiya
Santanu
Vyasa
Pandu
Arjuna
Abhimanyu.
Purvajanma
(Previous Birth)
There is a story about Abhimanyu's Purvajanma in the Mahabharata. It was Varcas, son of Candra, who incarnated as Abhimanyu, son of Arjuna.
A conference took place between the Devas and Candra about the incarnation of the Devas in the world for the destruction of the wicked people. Candra told the Devas: "I do not like to send Varcas, whom I love more than my life, to the earth. Still, I think it is not right to stand in the way of the plans of the gods. You must agree to one condition if I am to send my son. Let him, be born as the son of Arjuna. I am unable to be separated from him for more than sixteen years. My son will enter into the Cakra Vyuaha of the enemies to be killed by them and return to me in the sixteenth year."
The devas (gods) accepted this condition. That is why Abhimanyu was killed in his sixteenth year.
(Maha-bharata Adi Parva, Chapter 67).
Military Training and War.
Abhimanyu received his training in arms from his father Arjuna. Later, he went with his mother Subhadra to Dvaraka and lived for some time with his uncle Sri Krsna. There he is said to have received training in arms from Pradyumna, son of Sri Krsna.
After the incognito life of the Pandavas, Abhimanyu married Uttara, daughter of the King of Virata. War broke out between Kauravas and Pandavas. On the first day itself Abhimanyu entered into a duel with Brhatbala, King of Kosala. In the terrible conflict with Bhisma, Abhimanyu broke Bhisma's flagstaff.
After that he assisted his father Arjuna to fight against Bhisma.
Verses 8-13 of Chapter 55 of Bhisma Parva of the Mahabharata describe Abhimanyu's fight with Laksmana in the second day's battle. Then he took his place in the Ardha Candra Vydha (semi-circular phalanx) formed by Arjuna. He fought fiercely with the Gandharas. He attacked Salya and killed Jayatsena, King of Magadha, along with his elephant.
We find Abhimanyu assisting Bhimasena in Maha-bharata Bhisma Parva, Chapters 63, 64, 69 and 94.
After that Abhimanyu defeated Laksmana in battle. Then he defeated Vikarna, Citrasena and others also. Later he took his position in the Srngataka Vyuha created by Dhrstadyumna. He started fighting with Bhagadatta. He defeated Ambastha and Alambusa.
Next he fought a duel with Sudisna. After that he encountered Duryodhana, Brhatbala and others.
Maha-bharata Drona Parva, Chapter 10, Verses 47-52 are a description of Abhimanyu's heroism by Dhrtarastra. He snatched Paurava's weapon and threw it on the ground.
Next he fought with Jayadratha and Salya. Then he was caught in the Cakra Vyuha (circular phalanx) of they enemies. There he inflicted great losses upon the enemy forces. Salya was stunned and his brother was killed by Abhimanyu. Maha-bharata Drona Parva, Chapter 38, Verses 23 and 24 describe the flight of the Kauravas in fear. At this stage, even Dronacarya praised Abhimanyu's valour. Duhssasana fainted during his fight with Abhimanyu. Karna was defeated. Vrsasena, Satyasravas and Salya's son, Rugmaratha were slain. Duryodhana fled. Laksmana was killed. Vrndaraka, Asvatthama, Karna and others were amazed by this terrible valour of Abhimanyu. Six ministers of Karna were slain.
Next, Asvaketu, son of the King of Magadha was killed. King Bhoja was also killed. Salya was again defeated. Satrunjaya, Candraketu, Meghavega, Suvarcas, Suryabhasa – who were all kings — were beheaded by Abhimanyu. Sakuni was wounded by Abhimanyu's arrow. Kalakeya, son of Subala was slain. Maha-bharata Drona Parva, Chapter 40, Verses 13 and 14 say that at this stage, Prince Dussasana beat Abhimanyu to death with his mace.
After Death
Maha-bharata Drona Parva, Chapter 71, Verses 12-16 say that after death Abhimanyu attained the immortal world of the Munis (Saints).
King Pariksit was the son of Abhimanyu. In Maha-bharata Svargarohana Parva, Chapter 5, Verses 18-20, we find that after his death, Abhimanyu entered the moon in his former form of Varcas.
Other names of Abhimanyu
In the Maha-bharata Abhimanyu has been referred to by several other names, such as Arjuni, Saubhadra, Karsni, Arjunatmaja, Sukratmajatmaja, Arjunapara and Phalguni.
Other details
King Pariksit was the son of Abhimanyu. Janamejaya was born as his son. It was Janamejaya who performed Sarpasatra (a yajna)
Satanika was the son of Janamejaya. Satanika had a son named Sahasranika.
King Udayana, the jewel of the Candra Vamsa (Lunar dynasty) was born to Sahasranika by the goddess Mrgavati
(See `Udayana', stories about this Udayana are very famous. Kalidasa has mentioned in his "Meghaduta" about the old rustics who thronged the country-sides to tell and listen to Udayana stories).
(Kathasaritsagara, Madana Kancukalambaka, 4th Taranga ).
Post view 669 times