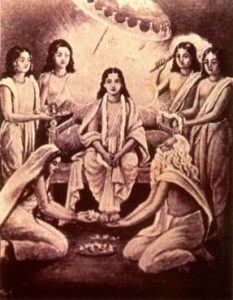 The three brothers, Sri Vasudeva Ghosa, Sri Madhava Ghosa and Sri Govinda Ghosa were very expert singers. Sri Nityananda Prabhu Himself would dance as they sang. [C.B. Antya 5.259]
According to some, their maternal uncle's house was in the village of Buron (or Burangi) in Sylhet (Srihatta). Their father later took up residence at Kumarahatta. After residing there for some time, the three brothers came to live at Navad­vipa.
They were born in the family of uttara-radhiya Kayasthas, and were very intimate associates of Sri Sri Nitai-Gauranga. Srila Bhaktisiddhanta Sarasvati Thakur states that they are immediate expansions of Srimati Radhika's body.
…..
The full story on Vasudeva Ghosh pastimes in our Archive
Post view 383 times from March 2020