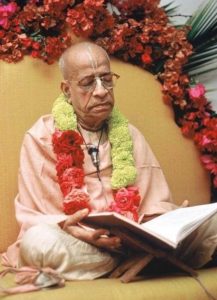 Pregunta
Hare krsna !
Maharaj por favor acepte mis reverencias a sus santos pies de lotos ,
Por favor usted me puede dar la cita de prabhupad del Cc , donde el dice que no vayan a donde sus hermanos espirituales a tomar siksa ?
Su sirviente :
Mukunda madhava das.
Hare krsna !
Respuesta
Estimado Mukunda Madhava Prabhu,
Por favor accepte mis reverencias. Todas las glorias sean para Srila Prabhupada.
Usted me pide una cita especifica supuestamente contenida en el Caitanya Caritamrita, pero no pude localizarla.
Sin embargo:
Primero que todo, deberiamos establecer que intendimos para "tomar siksa". Leer un libro de un Vaisnava no es necesariamente ser istruido de un siksa-guru.
Luego deberiamos establecer la epoca y cuien eran los devotos que deseavan "tomar siksa de los hermanos espirituales de Srila Prabhupada." Uno puede dar una istruccion a un joven devoto de 20 anios pero es bien probable que 40 anios despues al mismo devoto de 60 anios se le dice una cosa diferente.
Luego deberiamos diferenciar entre los hermanos espiritual de Srila Prabhupada. No eran todo lo mismo. Habian buenos y meno buenos como en cualquier ambiente.
Si no estableces estos y otros parametros, sera dificil de intiender lo que estamos hablando.
Excepto en una circumstancias, (carta desde Los Angeles, Enero 31 de 1969) donde parecio favorable que algunos devotos tomaran instrucciones de uno de su hestimado hermanos espirituales, Srila Prabhupada se mantuve consistente que su discipulos no aceptara siksa de su hermanos espirituales. En otras palabras, que los devotos deberian seguir su istrucciones sobre de como vivir en cociencia de Krishna.
Las razones estan explicada aqui abajo.
"Así que es mejor no mezclarse con mis hermanos espirituales muy íntimamente porque en vez de inspirar a nuestros estudiantes y discípulos a veces los pueden contaminar… Este hecho ya fue previamente intentado por ellos, especialmente M y T y B, pero de alguna manera u otra salvé la situación. Esto esta pasando. Debemos tener mucho cuidado de ellos y no mezclarnos con ellos. Esta es mi instrucción a todos ustedes. Ellos no nos pueden ayudar en nuestro movimiento, sino que ellos son muy competentes para dañar nuestro progreso natural. Así que debemos tener mucho cuidado de ellos."
(Carta, 28 de Abril, 1974)
Srila Prabhupada no dejo de criticare su hermanos espiritual aun en su libros:
"Śrī Brahmānanda Purī was one of the associates of Śrī Caitanya Mahāprabhu while He was performing kīrtana in Navadvīpa, and he also joined Lord Caitanya in Jagannātha Purī. We may note in this connection that the name Brahmānanda is accepted not only by Māyāvādī sannyāsīs but by Vaiṣṇava sannyāsīs also. One of our foolish Godbrothers criticized our sannyāsī Brahmānanda Svāmī, saying that this was a Māyāvādī name. The foolish man did not know that Brahmānanda does not always refer to the impersonal Brahman. Parabrahman, the Supreme Brahman, is Kṛṣṇa. A devotee of Kṛṣṇa can therefore also be called Brahmānanda; this is evident from the fact that Brahmānanda Purī was one of the chief sannyāsī associates of Lord Caitanya Mahāprabhu.
(Caitanya Caritamrita Adi 9.13-15)
De toda la forma, regresando a las primera dos cartas, la dos fechas (1969 y 1974) hablan claro.
Pero no elaboro sobre de esto punto.
Seria interesante decir algo sobre del concepto de "tomar siksa" y de "siksa-guru", porque son dos cosas diferente.
Si uno es neofito mejor que no vaya hablando de filosofia fuera de Iskcon.
Si uno no es asi tan neofito no es nada malo si va da un devoto dentro o fuera de Iskcon a conversar de filosofia. Importante es de confirmar con su diksa-guru o siksa-guru en el caso de que sea un punto importante.
No es que si encuentramos un devoto non-Iskcon tenemos que bajar la cabeza y ni salutarlo. Podemos hablar pero luego confirmamos.
Siksa-guru es algo diferente de "tomar siksa" para la presencia de la palabra "guru" luego de "siksa".
Guru significa absoluto. Lo que el dice se acepta.
Hoy es de moda decir "el es mi siksa-guru" pero cuando el dice algo que no nos gusta lo rechazamos.
Cuando no se puede aceptar en manera total lo que uno dice, no use la palabra Guru. Busque una otra palabra.
Hare Krishna
Su sirviente
Manonatha Dasa (ACBSP)
PS
Libreria y Blog: www.isvara.org
Post view 876 times