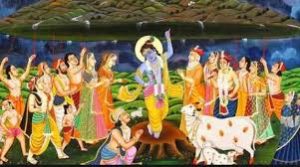 Parrots chanting
Today there has been a big meeting of saris (Radharani's parrots) in Radha Tila, hundreds of them, just below my asrama.
It has been many years I did not see so many in this place. Unfortunately buildings have chased away not only peackock but birds also.
Maybe ten years ago or more there were thousands.
I recorded this auspicious sounds.
Path:
History / Vraja Places / VVV / Vrindavana, main / audio / Parrots chanting 2018-11-24.mp3
Unfortunately I am unable to upload the pictures. Subscribers can see them at the same spot. Only choose Images /  Parrots chanting 2018-11-24
– Manonatha Dasa (ACBSP)
Post view 65 times from March 2020