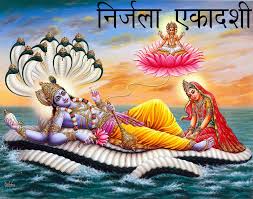 Question
…
I HAVE RELATIONSHIP WITH OTHER DEVOTOS AND I AM SURPRISED THAT THEY DO NOT IMPORT THE EKADASI DAY WHEN IT IS AN INSTRUCTION OF HIS DIVINE GRACE SRILA PRABHUPADA.
….
Answer
In his song Suddha Bhakata, Srila Bhaktivinoda Thakura says
mādhava-tithi, bhakti-jananī,
jetane pālana kori
"The holy days like Ekadasi and Janmastami are the mother of devotion for those devotees who respect them."
Padma Purana:
bhuyo-bhuyo drdha vani
sryatam syata janah
na bhoktavyam na bhoktavyam
na bhoktavyam harer dine
"O human beings, please listen, I tell you repeatedly with steadfast determination, please never eat any grains on the Day of Lord Hari (Ekadasi day, the Lord's appearance day like Janmastami day etc.). Please never eat any food grains even by mistake on the Day of Lord Harl. Please do not eat grains on the Day of Lord Hari even if forced or compelled to do so."
The reason to not eat food grains on Ekadasi is stated in the Brihad Naradiya Purana:
yani kani ca papani
brahma hatyadikani ca
annam asritya tiathanti
samprapte hari vasare
"Every type of sin in this world, including the grievous sin of killing a Brahmana, reside in food grains on the Day of Lord Hari (Ekadasi and other fasting days). If grains are eaten on fasting days sins enter the body of that human being."
Hari Bhakti Vilasa states:
brahmacari grhastho va
vanaprastho 'thava yatih
ekadasyam hi bhunjano
bhukte go-mamsam eva hi
"Whether a person is Brahmachari, Grihastha, Vanaprasthi, Sanyasi or any other social order, if they eat food grains on Ekadasi, they acquire the same sin as that received by eating cow's meat."
We could go on and on…
All devotees must observe Ekadasi Tithi (days) through fasting from grains and chanting more rounds of the Hare Krishna Maha Mantra.
– Manonatha Dasa (ACBSP)
17 May 2019, Narasimha Caturdasi
Post view 304 times from March 2020