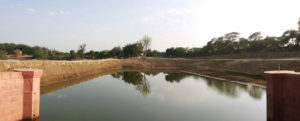 This pond is situated in Nanda Gaon, south of Nanda-bhavana.
Mother Yasoda used to daily bath here.
Sometimes, she would bring Krishna and Balarama along and joyfully watch Their childhood games. After bathing, Mother Yasoda would pray for Krishna's well-being to Nrisimhadeva in the temple on the bank of the pond.
An ancient cave where many great saints have performed sadhana and attained the Supreme Lord lies at a secluded place near Yasoda-kunda.
Great personalities have performed their bhajana here, attracting sadhakas who do not care about material life to come here to perform bhajana.
Post view 516 times