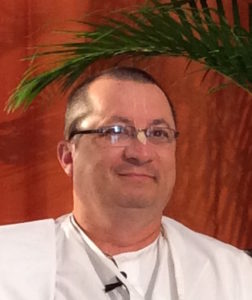 Who is he?
Manonatha Dasa (ACBSP) is a devotee of Lord Krishna.
He is one of the direct disciples of Srila Prabhupada, Founder Acarya of the Hare Krishna Movement, from whom he took initiation in 1974.
He is one of Iskcon's oficial initiating Gurus (spiritual masters).
What did he do?
He dedicated his life to studying and teaching the philosophy of Krishna consciousness.
He is the author of many books in Italian, English, and Spanish that you can find and buy here:
store.isvara.org
He also authored thousands of articles on Vedic Vaisnava history and philosophy.
In 1995 he founded Isvara.org in various languages from where he teaches to a large Internet audience by writings, videos, and audios.
To this day he is still writing books and privately and publicly answering questions.
What languages does he speak?
He speaks fluent Italian, English, and Spanish.
How to contact him?
Email or Facebook. But WhatsApp is something that he likes to use even more than others.
We appreciate your donations. Thanks
donate.isvara.org
Post view 647 times from March 2020