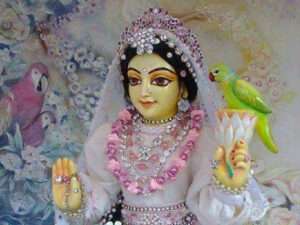 Otro nombre de Tulasi es Vrinda Devi[1]. 
Srila Narottama dasa Thakura dice:
krpa kori koro tare vrindavana vasi, 
"Querida Tulasi, por favor concédeme tu misericordia, para que pueda residir para siempre en Vrindavana."
Pasatiempo 
El bosque de Vrindavana lleva el nombre de Vrinda Devi, quien realizó penitencias allí durante 60.000 años. 
Ella nació como hija del emperador Kedera, un rey muy piadoso que alcanzó Goloka Vrindavana.
Su hija Vrinda Devi, después de santificar el bosque por su penitencia, también alcanzó Goloka. Desde entonces, el bosque ha sido conocido como Vrindavana. 
Complacido por las austeridades de Vrinda Devi, el Señor Vishnu concedió una bendición al bosque de Vrindavana:  
"Cualquier penitencia que se realice aquí fructificará rápidamente y tendrá excelentes resultados." 
Más tarde Tulasi-devi, hija del rey Kusadhvaja, realizó penitencias aquí y alcanzó la perfección.  
El segundo nombre de Tulasi es Vrinda. 
"Las atractivas características de Krishna también son descritas por Vrinda, el gopi de quien Vrindavana fue nombrado.[2]"
Vrinda Devi es una expansión de Srimati Radharani y su expansión parcial es Tulasi en Vaikuntha. Vrinda Devi es una socia muy íntima y novia de Srimati Radharani. Krishna se expande como Narayana para casarse con Tulasi en uno de Sus pasatiempos".
Vrinda Devi tiene una hermosa tez del color del oro fundido. Lleva prendas azules y está decorada con perlas y flores. Su padre es Candrabhanu y su madre es Phullara-devi. Su marido es Mahipala y su hermana es Manjari-devi. Ella siempre permanece en Vrindavana, inmersa en el amor por Radha y Krishna y anhelando organizar sus reuniones y probar el néctar de ayudar en sus pasatiempos trascendentales[3].
La arreglista
Como la encarnación de la lila-shakti (potencia de los pasatiempos) Vrinda Devi es la organizadora de todos los pasatiempos trascendentales de Sri Sri Sri Radhika-Krishnacandra. Vrinda conserva muchos almacenes en los bosques de Vrindavana. Ella siempre está ocupada, junto con sus sirvientas y diosas del bosque, trabajando para llevar los pasatiempos de Radha-Govinda a la realización completa.
"Según los Gosvamis, Vrinda Devi tiene una posición muy única y elevada en los pasatiempos de Sri Sri Radha-Krishna. Ella organiza las reuniones secretas e íntimas y es una colaboradora muy cercana de Srimati Radhika".  
"Hay doce encantadores bosques de diversión en Vrindavana. Bajo las instrucciones de Paurnamasi (Yogamaya personificada) Vrinda Devi hace todos los arreglos para la unión de Radha y Krishna, porque Ella está a cargo del bosque."
Los servicios expertos de Vrinda Devi 
Vrinda Devi es responsable de despertar a Radha y Krishna mientras descansan en las kunjas del bosque (arboledas). Ella apresura a la Pareja Divina a sus hogares en Nandagaon y Yavata antes del amanecer y antesde que Sus superiores detecten Su ausencia. En nombre de Radha, Vrinda Devi le ofrece a Sri Krishna notas de amor y regalos hechos a mano, aretes de flores y guirnaldas. Vrinda organiza toda la parafernalia utilizada en los pasatiempos de Radha-Krishna. Ella proporciona todos los columpios, instrumentos musicales, jeringas de agua y colores para chorros, ropa, adornos y una variedad de alimentos y bebidas. 
Junto con sus muchas sirvientas, Vrinda Devi, utilizando la artesanía artística, decora con buen gusto las arboledas y arqueras donde Radha y Krishna se divierten. Ella involucra a dos loros hembra expertos para actuar como espías en el camino para alertar de la aproximación de las dos saboteadoras de diversión Jatila (la suegra de Radha) y Candravali[4]. When Radha reaches the rendezvous place, Vrinda personally escorts Her to meet Syamasundara.
Cuando Radha llega al lugar de encuentro, Vrinda la acompaña personalmente para encontrarse con Syamasundara.
Durante la noche de bailes del rasa,  Vrinda Devi distribuye una variedad de instrumentos de percusión, cuerdas y viento a los gopis. Su interpretación experta crea un concierto celestial de sensaciones brillantes. Para aliviar la fatiga de los artistas del rasa, Vrinda presenta platos agradablemente preparados de deliciosas frutas del bosque y ollas doradas de refrescante néctar de miel. 
"Llena de una gran avalancha de amor y decorando las siempre florecientes arboledas de Vrindavana con muchas flores fragantes, Vrinda Devi crea un ambiente festivo para que Sri Sri Sri Radha-Krishna participen en pasatiempos trascendentales con sus queridos amigos. Permítanme rendirme a Vrinda Devi. 
Vrinda Kunda
Vrinda Kunda es el lugar donde se dice que Srimati Vrinda Devi contempla cómo organizará los pasatiempos diarios de Radharani y Krishna.  
Junto a Vrinda Kunda está Gupta Kunda, que es donde se dice que Radharani se encuentra en secreto con Krishna. 
Hay una hermosa deidad de Vrinda Devi en el templo aquí. 
Ella tiene un loro amarillo en la mano izquierda. Se dice que este loro vuela alrededor de Vrindavana y al regresar le dice a Vrinda Devi lo que está sucediendo allí. El loro se llama Daksa y se dice que tiene un lakh[5] de discípulos.
Vrinda Devi organiza los pasatiempos en Vrindavana. Tulasi es una expansión de Vrinda Devi. Paurnamasi es el guru de Vrinda Devi.
Vrinda Devi es la diosa que concede la entrada en Vrindavana y su Murti se puede admirar en Vrinda Kunda, el templo Iskcon que está cerca de Nandagaon.
Quienquiera que vaya a Vrindavana no debe perder la oportunidad de ir y pedirle a Vrinda Devi sus bendiciones. 
Sin su misericordia nadie puede incluso dar un paso dentro de la frontera de la bendita y hermosa Sri Vrindavana Dhama.
[1] La que concede residencia en Vrindavana.
[2] Nectar de la Devoción, Capítulo 26
[3] Sri Sri Radha Krishna Ganoddesa Dipika, by Srila Rupa Gosvami.
[4] La rival de Radharani.
[5] 100,000.
Esta es una sección del libro "Brillante como el sol", en Espanol.
Para comprar el libro completo, haga clic arriba
Post view 581 times