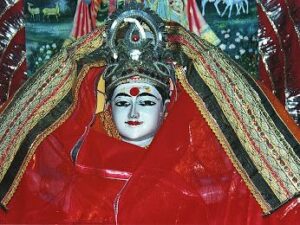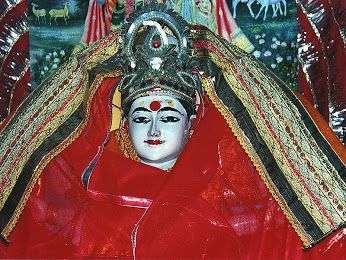 Vira Devi is a little known Gopi but plays an important role in Radha Krishna's pastimes.
She lives in Yavata, the same town of Radharani's during her years as a married woman and became very good friends with Jatila, Radharani's mother-in-law.
Vira Devi is worshipful and famous in Vraja-mandala, and is a pragalbha-vacana[1]. She is also very close friends with Vrinda who, contrary to her, is a catu-vacana[2].
Vira's complexion is blackish blue but seems bright because she wears white clothes. She is decorated with many kinds of flower garlands and jeweled ornaments.
Vira's husband is Kavala. Her mother Mohini is a virtuous wife. Vira's father is Visala and her sister's name is Kavala.
You find all this information in the Radha Krishna Ganoddesa Dipika by Srila Rupa Gosvami.
She is most expert in making enquiries and is specifically devoted to arranging meetings between Sri Radha and Sri Krishna.
Between Varsana and Nandagaon there is a place called Sanket. In this place Vira Devi and other Gopis would send signals to Radharani as to when was the best moment for meeting Krishna. The word 'sanket' means 'to give a hint' or 'to give a signal',
Sanket is an adhivana[3] of Vrindavana. If you visit Sanket you can offer obeisances to the local Deity of Sanket, who is non-different from Vira Devi. This deity, who is also an expansion of Yogamaya, appears in this village in her form as Durga. The Deity of Sanket was discovered here by Srila Narayana Bhatta, who re-installed the deity said to have been originally established by Vajranabha Maharaja.
Sometimes, Radharani would come here to meet with Krishna, and sometimes Krishna would come here to meet with Radharani.
In Govinda-Lilamrita and Krishna-Bhavanamrita, Sri Krishnadas Kaviraja and Sri Visvanath Cakravarti Thakur respectively, describe Radha and Krishna's meetings and pastimes here as naisa[4] and nisanta[5]. These descriptions are wonderful. Those who are spiritually advanced will enjoy hearing these topics.
By Yogamaya's desire the principal messengers, Vira-devi and Vrinda-devi, arrange the meeting of the Divine Couple Shri Radha-Krishna. Vrinda-devi makes very sweet arrangements to awaken the Divine Couple at the end of the night, just before dawn breaks.
The male parrot and the female parrot awaken Them with enchanting words. The black cuckoo helps to wake Them up with his sweet kuhu-kuhu, and the peacock and peahen with their ke-ka. Lalita, Vishakha and the other sakhis offer arati to the Divine Couple.
When Kakkhati, the old she-monkey, calls out "Jatila", Sri Radharani and Sri Krishna become embarrassed and make Their separate ways to Their respective residences, where They fall asleep.
In the Bhakti-ratnakara it says:
"In this Sanket-kunja the sakhis were giving hints to one-another and very carefully brought Radha and Krishna together here. At an auspicious moment, they briefly became united together for the first time at this place. Just see, there is Krishna-kunda and many other enchanting places where innumerable unseen pastimes took place."
When Krishna would go into the fields to herd the cows and Radharani would go to pick flowers, sometimes they would meet here. It is said that in this area Radha and Krishna would be swung on a swing.
Gopala Bhatta Gosvami did bhajana here for a long time.
Many other Gosvamis did bhajana here. All of the Gosvamisi had come to this place, at least for some time, to relish the pastimes that took place here.
It is also said that Vira Devi everyday meets with Vrinda and Yogamaya to organize Radha Krishna transcendental pastimes.
[1] A fearless speaker.
[2] Someone using sweet and charming words.
[3] Sub-forest.
[4] Midnight.
[5] Pre-dawn.
This is a section of the book "Brilliant as the Sun".
Post view 86 times