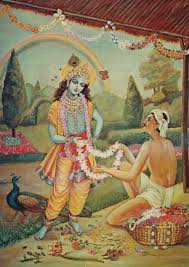 Excerpts from a private email
…
Now I know a little more about you, but still I can't address your situation with precision. There is a lot you learn by meeting the person. So I'll say something based on what I know of you.
Your inner state is not rare, at the contrary is quite common.
Since is not our first birth in this material world, we can't know our life history before our birth. For some reason, some of us feel a strong urgency for spiritual life and everything else in our life seems intolerable, even one minute more is like hell.
It may be that one was so close to perfection and just one little mistake forced him to take birth again in a difficult situation.
Whatever you previous lives situations were, you should put all your pros and cons on a scale.
(private section)
So my advice to you is that you have to take more proactive steps, pretending more freedom of movement, so you can go to our temples… and stay there for days or weeks.
You should also choose a Guru and take initiation. This is very important. It's the first step in spiritual life.
As far as making questions goes, you have the whole Vaisnava world online at your disposal for good answers. Surely you can send me questions. Not much, but you have been sending me questions for years.
The last point I want to address is the pathological (so you describe it to me) reaction to your life style.
You shouldn't be in such a hurry. Life is eternal, it's not that if you don't get everything you want right away your time and chances will expire. You have plenty of time in this life and then you'll have many lives more if you want something material, and eternal life if your only interest is Krishna.
So please be patient. You have japa, books, Deities, you don't miss anything. Everything will come, there is no doubt.
Again, based on what you are telling me, if you don't get what you want is because of your inertia. Take your life in your hand, pretend more freedom from your family and go associate with devotees.
Your well-wisher
Manonatha Dasa (ACBSP)
PS
Archive: www.isvara.org
Post view 532 times