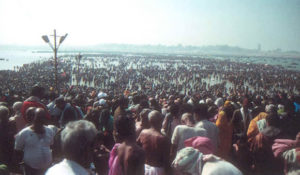 Excerpt of a private letter
…
About your use of the term "devotee", like "el devoto Krishnadas" etc., it's not an appropiate way to address devotees, although I know that in Puerto Rico is normally used.
To men devotees it has to be used the word "Prabhu" after the name and Mataji before the name for ladies devotees. For example, Krishnadas Prabhu or Mataji Radharani.
In the case of newer devotees you put before their names the terms Bhakta for men (for example Bhakta Juan) or Bhaktin for women (f.e. Bhaktin Janet).
Less of a month is left, we'll see soon.
Your well-wisher
Manonatha Dasa (ACBSP)
Isvara Archive, the largest library on the Internet. Enter the Archive.
Post view 281 times from March 2020