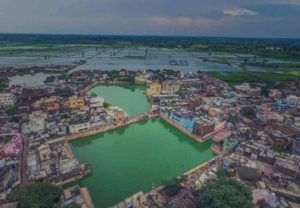 Raghunatha dasa Gosvami used to reside on the bank of Sri Radha-kunda. At the time Radha-kunda was just a small pond of water, and therefore sometimes Raghunatha would meditate on enlarging the kund. Then he would chastise himself for desiring something which would require a large amount of money.
Around this time one very wealthy Seth underwent great austerity by walking to Badarikasrama in the Himalayas. Arriving there he very reverently worshiped Sri Badrinarayana and offered much wealth at His lotus feet. That night as he slept there, he had a dream in which Sri Badarinarayana instructed him to proceed to Vraja, where he should present all his wealth to Sri Raghunatha Dasa Gosvami, who was residing at Aritgram. "If he declines to accept it, then you can mention My name and remind him about renovating Radha-kunda and Syama-kunda."
…
The complete story is available on Kadacha Edition
#radha kunda, #radhakunda.
Post view 1012 times