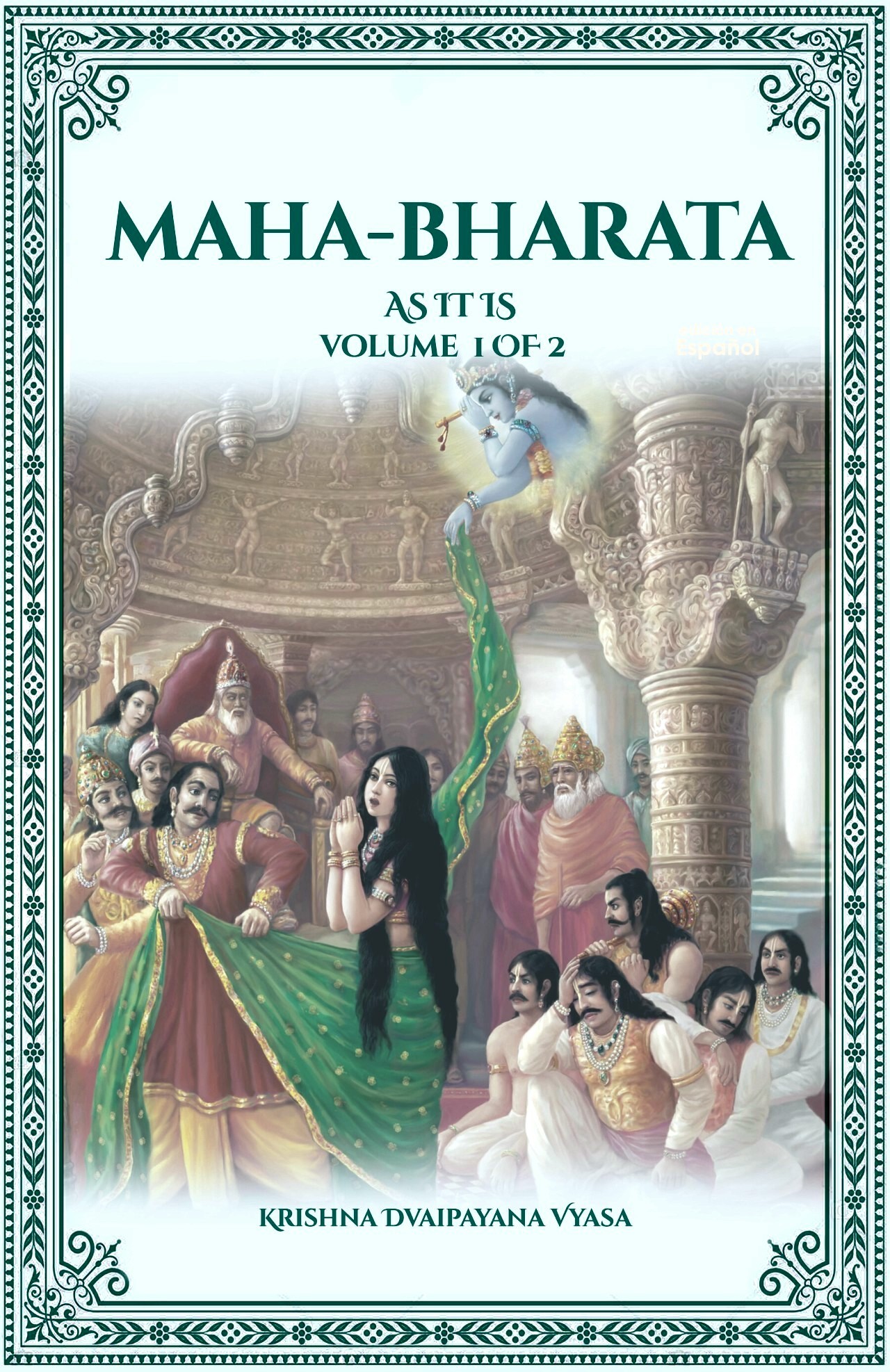 oṁ namo bhagavate vāsudevāya
The Maha-bharata told by Sri Krishna Dvaipayana Vyasa is finally available on our bookstore.
This edition has been called Maha-bharata As It Is because is perfectly faithful to the original, without unauthorized additions.
Originally published in the late 80's in Italian language and then in Spanish, we are proud now to present it to you the English edition.
(Also available in hard cover)
Index of Vol. 1
Offering obeisances and asking for blessings 11
Why did you write the Maha-bharata? 13
Some notes from scholars and friends 14
Why not the full book? 15
After the Death of king Pariksit 24
Janamejaya's Snake Sacrifice 29
The Narration of the Maha-bharata Begins 33
The Emergency Caused by the Asuras 35
Shantanu Meets His Second Wife 46
Vyasa Begets Three Children 54
Kunti and the Son of the Sun 58
The Birth of the Pandavas 61
The Birth of Dhritarastra's Children 63
The Story of Drona and Drupada 76
The Events of Varanavata 94
The News Of the Tournament 107
Draupadi's Svayamvara 109
The Meeting Of the Pandavas With Krishna 117
The Apparent Reconciliation 118
The Division Of the Kingdom 122
Arjuna Goes On a Pilgrimage 125
The Burning of the Khandava Forest 131
The Construction of the Sabha 135
The Pandavas' Military Campaign 142
Krishna and Sishupala 145
Duryodhana Is Humiliated 150
The Insults to Draupadi 160
In the Kamyaka Forest 173
The Meeting With Shiva 185
Arjuna In the Celestial Planets 188
The Pilgrimage to Mandara 192
On the Peaks Of the Himalayas 194
The Return to Kamyaka 205
Duryodhana Is Defeated and Humiliated 207
The Desperate Decision 210
Duryodhana's Rajasuya 211
Jayadratha's Misadventure 213
The Beginning of Anonymity 221
Indra Asks for Charity 227
The Terror of the Gandharvas Spreads 234
Hastinapura's Council 236
Arjuna Defeats the Kurus 239
The Secret Was Revealed 245
Arjuna And Duryodhana In Dvaraka 13
Krishna, Arjuna's Charioteer 16
The Arrival Of The Armies 17
Dhritarastra's Message 19
Sanjaya and Vidura's Advise 21
Krishna In Hastinapura 24
Karna and the Mystery Of His Birth 28
Dhristadyumna Is Appointed Commander 33
Bhishma Is Appointed Commander 34
Dhritarastra Prepares For The Great Tragedy 39
Sanjaya Begins To Tell The Story 41
The Pandavas Go To Bhishma 91
Sanjaya Comes Back From The Field Again 103
The Vote Of The Trigarta 108
The Fall of Bhagadatta 113
The Thirteenth Day – Abhimanyu 119
Jayadratha Closes The Breach 121
The Death Of Abhimanyu 123
The Events Of The Night 129
The Fears Of Yudhisthira 144
Satyaki, The Great Hero 146
Bhima In The Wake Of Satyaki 148
The Duel Between Bhima And Karna 155
Karna's Appointment – The Sixteenth Day 188
On The Seventeenth Day 190
The Tragic End Of Duhssasana 195
The Duel Between Arjuna And Karna 198
Duryodhana And The Secret Of Karna 204
Shalya Appointed Commander 207
Duryodhana Dives Into The Lake 211
Preparations For The Final Duel 214
The Celebrations For The Victory 223
Asvatthama's Punishment 231
The Coronation of Yudhisthira 239
The Birth Of Parikshit 243
Vidura's Instructions 244
The Events Of Prabhasa 247
Krishna Returns To His World 250
Dvaraka Invaded By Waters 252
The Pandavas Withdraw 254
Post view 579 times