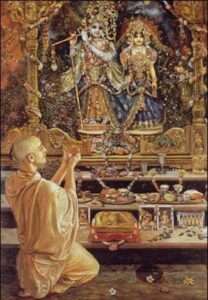 Preguntas
Por favor Guru Maharaj podria explicar en que consiste Caturmasya y que cosa Srila Prabhupada nos indica que debemos hacer acerca este tiempo.
Respuestas
Le daro solo una gota de la grande cuantidad de informaciones que se deberian saber sobre de Caturmasya.
Caturmasya se traduce como "cuatro meses" (catur = cuatro, masa = mes). Esto es el periodo durante el cual Sri Visnu entra en Su sueno mistico.
Empieza en el dia de Sayana Ekadasi y termina durante el mese de Kartika, en el dia de Utthana Ekadasi (tambien conoscido como Haribodhini, Prabhodini o Devotthani).
El primero mes es Sravana (Julio – Agosto) y no se deberia comer espinacas o vegetales de hojas verde similares a espinacas.
El segundo mes es Bhadra (Agosto – Septiembre) y no se deberia comer yogurt.
El tercero mes es Asvina (Setiembre – Octubre) y no se deberia tomar leche. Dulces hechos de la leche se pueden comer.
El cuarto mes va desde Asvina Sukla Dasami hasya Kartik Shukla Dwadashi (Otubre – Noviembre) y no se deberia comer dahl y vegetales que contiene muchas semillas.
A pesar que la importancia de Caturmasya es menudo amarrada al logro de beneficios materiales, como tranferirse a planetas superiores, los Vaisnavas los pratican seriamente.
Srila Prabhupada dice que Carturmasya Vrata, o el voto de seguir Caturmasya, deberia ser respectado por todos, no importa si brahmacari, grihastha, vanaprastha o sannyasi.
Srila Jiva Gosvami, en su Carturmasya-mahatmya of the Skanda Purana, dice:
tatha caivottamam loke
tapah sri-hari-kirtanam
kalau yuge visesena
visnu-prityai samacaret
"La penitencia mas perfecta que de debe praticar en este mundo es el canto de los nombre de Sri Hari. Especialmente en esta epoca de Kali, uno puede satisfacer el Senor Supremo Visnu a traves de el sankirtana."
Cantar todas la propia rondas y desminuir activiades materiales son particularmente importantes durante este periodo. Si uno sigue todas las reglas de Caturmasya pero no canta los nombres de Radha Krishna, esto vrata no sirve a mucho en el sentido absoluto.
Hay numerosos votos que los Vaisnavas toman para Caturmasya. Por ejemplo no se deberia comer otros alimentos que no se he mencionado aqui, como berenjena, tomate y otros. Tambien el devoto no se deberia afeitar ni el pelos ni la barba. Sin embargo los devotos son supuesto obedecer a las istrucciones de sus propios Gurus sobre cual vratas observar, que dependen de circumstancias. Todos lo que estan a la India durante este periodo serian obligado a seguir Caturmasya en todos los detalles.
Srila Sanatana Gosvami en su Hari Bhakti Vilasa descrive la importancia de seguir Caturmasya y como seguirlo.
Post view 352 times