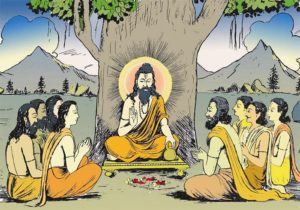 From the Muktika Upanisad
Then Hanuman asked Sri Ramacandra to relate the Santi of each Upanisad according to the divisions of Rgveda and others to which they belong.
To which Sri Rama replied:
(Rig Veda)
"Aitareya, Kausitaki, Nadabindu, Atma-Bodha, Nirvana, Mudgala, Aksamalika, Tripura, Saubhagya and Bahvrica
these 10 Upanisads are of Rgveda and have the Santi beginning with 'Vanme-Manasi, etc.'.
(Sukla Yajurveda)
Isa, Brhadaranyaka, Jabala, Hamsa, Parama-Hamsa, Subala, Mantrika, Niralamba, Trisikhi Brahmana, Mandala-Brahmana, Advaya-Taraka, Paingala, Bhiksu, Turiyatita, Adhyatma, Tarasara, Yajnavalkya, Satyayanl, and Muktika
these 19 Upanisads are of Sukla Yajurveda and have the Santi beginning with 'Purnamada, etc."
(Krishna Yajurveda)
"Katha, Taittiriya, Brahma, Kaivalya, Svetasvatara, Garbha, Narayana, Amrta-Bindu, Amrta-Nada, Kalagnirudra, Ksurika, Sarvasara, Sukarahasya, Tejo-Bindu, Dhyana-Bindu, Brahma-Vidya, Yoga-Tattva, Daksina-Murti, Skanda-Sariraka, Yoga-Sikha, Ekaksara, Aksi, Avadhuta, Kara, Rudra-Hrdaya, Yoga-Kundalini, Pancabrahma, Prana-Agnihotra, Varaha, Kali-Santarana, and Sarasvatirahasya,
these 32 Upanisads are of Krsna Yajurveda and have the Santi beginning with 'Sahanavavatu, etc."
(Sama Veda)
"Kena, Chandogya, Aruni, Maitrayani, Maitreyi, Vajrasucika, Yoga-Cuda-Mani, Vasudeva, Mahat-Sannyasa, Avyakta, Kundika, Savitri, Rudraksa, Jabala, Darsana, and Jabali
these 16 Upanisads are of Samaveda and have the Santi beginning with 'Apyayantu, etc.'
(Atharva Veda)
"Prasna, Mundaka, Mandukya, Atharva-Sira, Atharva Sikha, Brhat-Jabala, Nrsimha-Tapani, Narada-Parivrajaka, Sita, Sarabha, Maha-Narayana, Rama-Rahasya, Rama-Tapani, Sandilya, Paramahamsa-Parivrajaka, Anna-Purna, Surya Atma, Pasupata, Parabrahma, Tripuratapani, Devi, Bhavana, Bhasma-Jabala, Ganapati, Mahavakya, Gopala-Tapani, Krsna, Hayagrlva, Dattatreya, and Garuda,
These 31 Upanisads on Atharvaveda have the Santi commencing with 'Bhadram-Karnebhih, etc'.
---
Post view 49 times from March 2020