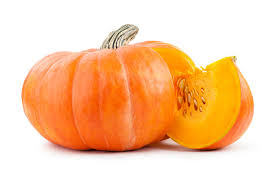 Yamuna Devi's Butternut Squash Puree with Coconut (Kaddu Bharta)
Yamuna Devi writes: "Pumpkin is the most popular winter squash in India. It is sold in cut pieces. This bright orange squash is more often boiled than baked. In the West, we can ash-or oven-bake whole smaller varieties, such as butternut, acorn, Hubbard or buttercup. Flavour and nutrition are locked within the tough, thick skin. A delicate blend of cardamom, fennel and lime juice beautifully offsets the sweet puree. Garnish with toasted coconut and/or hazelnuts."
Preparation time (after assembling ingredients): a few minutes
Cooking time: 15 minutes,
Serves: 4
1 large butternut squash (about 1 pound/455 g), freshly baked or steamed,
4 tablespoons unsalted butter,
2 teaspoon fennel seeds, crushed,
½ teaspoon cardamom seeds, crushed,
1-2 teaspoons hot green chilies, seeded and chopped,
2-3 tablespoons Jaggery, maple sugar or syrup,
3 tablespoons cream (optional),
1 teaspoon salt,
¼ cup shredded coconut and/or chopped hazelnuts, toasted in a 300 F (150 C) oven until golden,
2 tablespoons lime juice.
Cut open and peel the squash. If it has been baked whole, scoop out the seeds and fibres. Place the pulp in a bowl and puree with a potato masher or in a food processor.
Heat 3 tablespoons of the butter in a 12-inch (30 cm) nonstick frying pan over moderate heat. When it is hot and frothing, add the fennel seeds, cardamom seeds and green chilies. Within seconds add the squash puree, sweetener, cream, if desired, and salt. Cook, stirring frequently, until thickened, about 5 minutes.
Before serving, garnish with coconut or hazelnuts, the remaining butter and sprinkle with lime juice.
#prasada
Post view 231 times