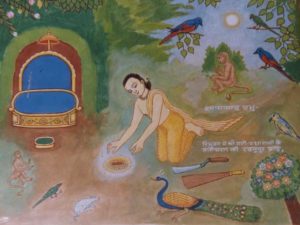 Those who know the associates of Sri Gauranga to be eternally liberated souls will attain their place by the side of the son of the king of Vraja.
Sri Syamananda Prabhu, Srinivasa Acarya and Sri Narottama dasa Thakura were the internal associates of Sri Gaurasundara. They incarnated in this world in order to spread the teachings of Sri Gaura-Krsna after His departure from it.
Sri Syamananda made his appearance at Utkala in the village of Dharenda Bahadurpur. His father's name was Sri Krsna Mandal and his mother's name was Sri Durika. Sri Krsna Mandal, who descended in the line of sad-gopas, had many sons and daughters who unfortunately passed away before the birth of this son. For this reason this son was named Dukhiya.
Everyone said that this child would be a very high-souled saintly person. "On the full moon day of the month of Caitra he has taken his birth at a very auspicious moment, by the mercy of Lord Jagannatha. It is as though Lord Jagannatha has personally brought him here in order to propagate His teachings, and therefore He is personally maintaining him. He looks just like a new cupid. One's eyes and mind are soothed just to look upon him."
As time passed, the purificatory rites, his first taking of grains, tonsure (the hair-cutting ceremony) and the rites for beginning his education were performed, one after the other. The scholars were astounded to see his profound intellect. Within a short period he completed his studies of grammar, poetry and rhetoric. When he heard of the glories of Sri Gaura-Nityananda from the Vaishnavas of his village, a very deep attachment to Their lotus feet developed in him.
….
A glimpse from the wonderful book "Syamananda Pandita"
---
Post view 947 times