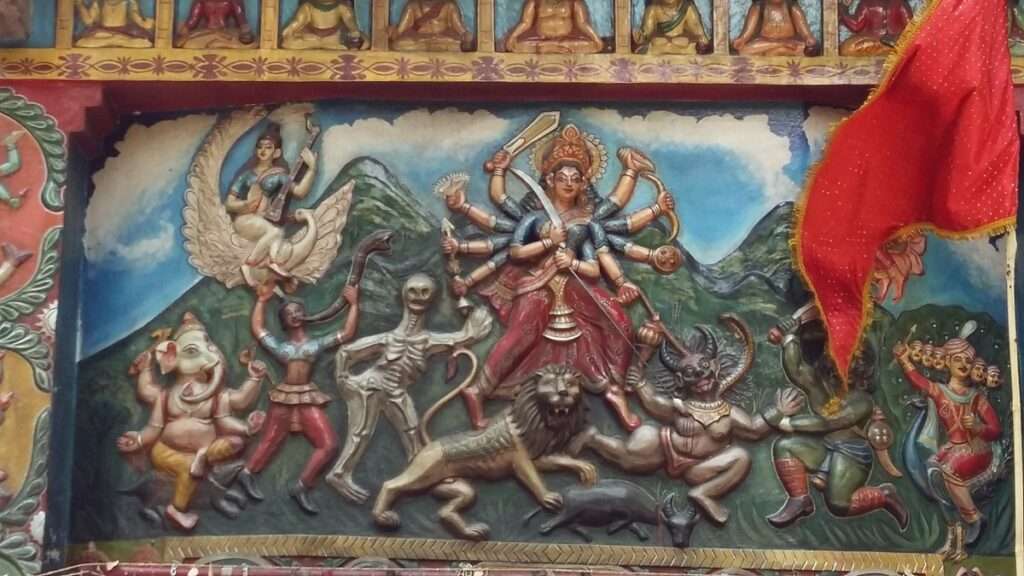 From Chakulia Sri Syamananda Prabhu went to Dhalbhumgarh. The King there, Navina Kisora Dhal, was a Shakta[1] and worshipped Mundalia Rankini Devi[2]. He made arrangements for the stay of Syamananda Prabhu, Rasikananda Prabhu and their disciples in the temple of this Devi. At midnight, feeling hungry, the man-eater Rankini Devi came out from her inner chamber and saw Syamananda Prabhu and Rasikananda Prabhu. She became frightened and remorseful, and prostrating at their lotus feet, she apologized again and again for all the sins she had committed.
Afterwards the Goddess assumed a very terrific form and went to the King. Filled with wrath she said:
"Go take refuge at the lotus feet of Syamananda Prabhu, otherwise I will kill you and all of your family."
Being terrified, the King immediately went to the temple accompanied by his queens, but Syamananda Prabhu refused to see the face of someone who had been so hostile to the Vaisnavas. Rankini Devi in person started to worship the lotus feet of Syamananda Prabhu, and the next morning he and his disciples left the temple.
When they stopped at a mango garden twelve miles away to perform their daily rituals, Rankini Devi brought King Navina Kisora Dhal to that place and made him prostrate at the lotus feet of Sri Syamananda Prabhu. Being touched by the pitiful supplications of Rankini Devi, Syamananda Prabhu at last forgave the King and gave initiation to him and his family. At the insistent request of the King, Syamananda organized a festival in the mango garden in which many sadhus and the residents of Dhalbhumgarh also participated.
[1] Saktas worship female deities, like Kali and Parvati.
[2] A form of Goddess Kali.
This is a section of the book "Syamananda, the Joy of Radharani (English)".
To buy the complete book, click above
Post view 307 times