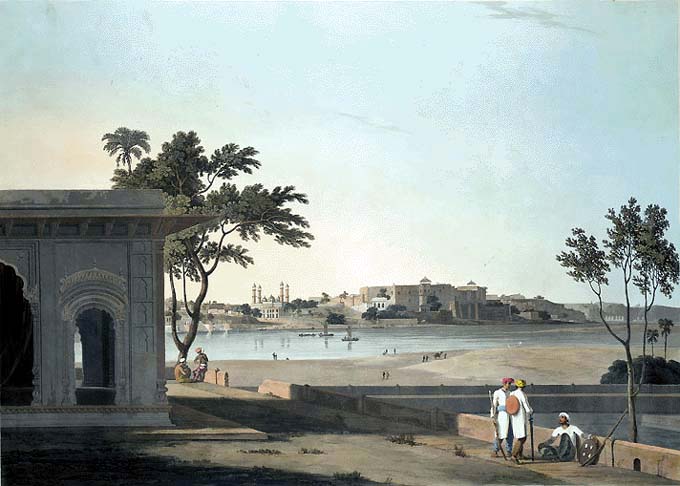 "View of Mutura on the River Jumna"
by Thomas and William Daniell, c. 1803
Jan 06, 2021 — CANADA (SUN) —

In the Nectar of Devotion, Chapter 12, Srila Prabhupada describes the glories of residing in Mathura:

"In the Varaha Purana there is a statement praising the residential quarters of Mathura. Lord Varaha tells the men of earth, "Any person who becomes attracted to places other than Mathura will certainly be captivated by the illusory energy." In the Brahmanda Purana it is said that all the results of traveling on all the pilgrimages within the three worlds can be achieved simply by touching the holy land of Mathura. In many sastras (scriptures) it is said that simply by hearing, remembering, glorifying, desiring, seeing or touching the land of Mathura, one can achieve all desires.

….In the Padma Purana there is a statement about the importance of living at holy places like Mathura or Dvaraka. It is stated there, "To travel to different places of pilgrimage means to attain emancipation from material bondage. This emancipation, however, is not the highest perfectional stage. After attaining this liberated stage, one has to become engaged in devotional service to the Lord. After attainment of the brahma-bhuta [liberation] stage, one can further advance to engagement in devotional service. So this attainment of transcendental loving devotional service to the Lord is the goal of life, and it can be achieved very easily for one who lives in Mathura-mandala even for a few seconds.

It is further said, "Who is that person who will not agree to worship the land of Mathura? Mathura can deliver all the desires and ambitions of the fruitive workers and of the salvationists, who desire to become one with the Supreme Brahman. Certainly Mathura will deliver the desires of the devotees, who simply aspire to be engaged in the devotional service of the Lord." In the Vedic literature it is also stated, "How wonderful it is that simply by residing in Mathura even for one day, one can achieve a transcendental loving attitude toward the Supreme Personality of Godhead! This land of Mathura must be more glorious than Vaikuntha-dhama, the kingdom of God!"

Bhaktivedanta Book Trust. HDG A.C. Bhaktivedanta Swami Srila Prabhupada.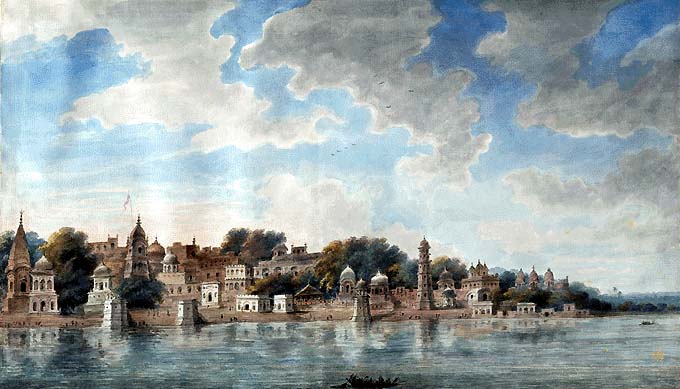 "The Visrant Ghaut on the River Jumna at Mathura" Watercolor by Seeta Ram, c. 181415
Sri Mathura-mahatmya
(The Glories of Sri Mathura)

Canto Five, Volume Three, Chapter Twenty-five of Sri Garga-samhita

Text 1

sri-bahulasva uvaca

akasmad agate rame
tatra tirtham idam srutam
aho madhu-puri dhanya
yatra sannihitas ca sah

Sri Bahulasva said: I have heard that Lord Balarama quickly returned to glorious Mathura City, where He stays eternally.

Text 2

mathurayas tu ko devah
kah kshatta kas ca rakshati
kas carah ko mantri-varah
kair bhumis tatra sevita

Who is the Deity of Mathura? Who is Mathura's gatekeeper? Who protects Mathura? Who brings news to Mathura? Who is the counselor in Mathura? Who worships the ground of Mathura?

Text 3

sri-narada uvaca

paripurnatamah sakshac
chri-krishno bhagavan harih
svayam hi mathura-nathah
kesavah klesa-nasanah


Sri Narada said: Sri Krishna, the perfect Supreme Personality of Godhead, who destroys all sufferings, is the Deity of Mathura.

Text 4

sakshad bhagavata praptah
kapilaya dvijaya ca
kapilah pradadau yam vai
prasannah sata-manyave

The Lord Himself gave this Deity to the brahmana Kapila, and kind Kapila gave the Deity to Satamanyu.

Text 5

jitva devan rakshasendro
ravano loka-ravanah
yam stutva pushpake sthapya
lankayam tam apujayat

After he had conquered the demiogds, the demon-king Ravana, who made the world cry, offered prayers to this Deity, placed Him on a flower-airplane, and worshiped Him in Lanka.

Text 6

jitva lankam raghavendras
tam aniya prayatnatah
ayodhyayam ca varaham
arcayam asa maithila

O king of Mithila, when He conquered Lanka, Lord Ramacandra carefully took this Deity of Lord Varaha and worshiped Him in Ayodhya.

Text 7

stutva ramam ca satrughno
yam aniya prayatnatah
mathurayam maha-puryam
sthapayitva nanama ha

After offering prayers to Lord Ramacandra, Satrughna carefully took this Deity, placed Him in the great city of Mathura, and bowed down to offer His respects.

Text 8

sevito mathuraih sarvaih
sarvesham ca vara-pradah
sakshat kapila-varahah
so 'yam mantri-varah smritah

All the people of Mathura worship this Deity. This Deity gives blessings to all. Kapila-Varaha is the counselor of Mathura.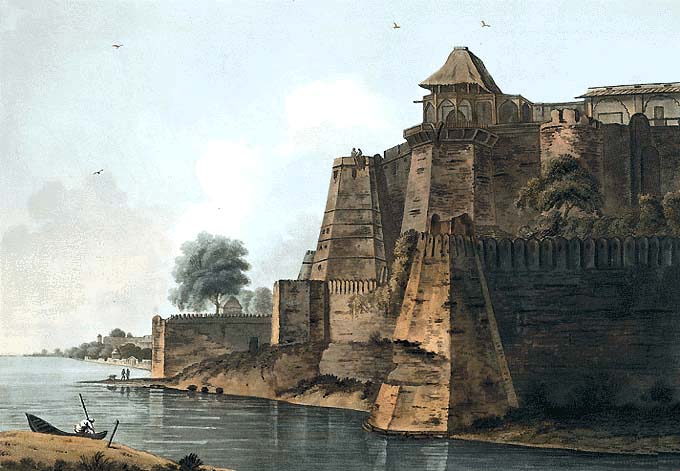 "Muthura Fort (on The Jumna)"
Aquatint by Francis Swain Ward, c. 1803
Text 9

kshatta sri-mathurayas ca
namna bhutesvarah sivah
dattva dandam patakine
bhakty-arthan mantratam vrajat

The gatekeeper of Sri Mathura is an incarnation of Lord Siva named Bhutesvara. He punishes the sinful and instructs the devotees.

Text 10

candika tu maha-vidya
devi durgarti-nasini
simharudha sada raksham
mathurayah karoti hi

Ferocious Goddess Durga, who is the personification of transcendental knowledge and who destroys all sufferings, rides a lion and eternally protects Mathura.

Text 11

caro 'ham mathurayas ca
pasyal lokan itas tatah
vadami vartam sarvesham
sri-krishnaya mahatmane

I bring news to Mathura. I observe what happens in the different planets, and I tell Lord Krishna all the news.

Text 12

madhye vai mathura devi
subhada karunamayi
bubhukshitebhyah sarvebhyo
dadaty annam videha-rat

O king of Videha, in the middle of the city is auspicious and kind Goddess Mathura, who feeds all that are hungry.

Text 13

catur-bhuja syamalanga
vrajanti pravrajanti ca
mathurayam mritam netum
vimanaih krishna-parshadah

Dark-complexioned four-armed associates of Lord Krishna go here and there in Mathura to bring anyone who dies there to the spiritual world.

Text 14

sri-krishnasyanga-sambhuta
mathura vai maha-puri
yasya darsana-matrena
naro yati kritarthatam

Simply by seeing Mathura City, which was manifested from Lord Krishna's transcendental form, one attains the goal of life.

Text 15

pura vidhih sri-mathuram upetya
taptva tapo varsha-satam nirannah
japan harim brahma param svayambhuh
svayambhuvam prapa sutam pravinam

In the past the demigod Brahma went to Sri Mathura, where for a hundred years he performed austerities, constantly chanting the holy names of Lord Krishna, and not eating anything. The result of these austerities was that he fathered a very intelligent son: Svayambhuva Manu.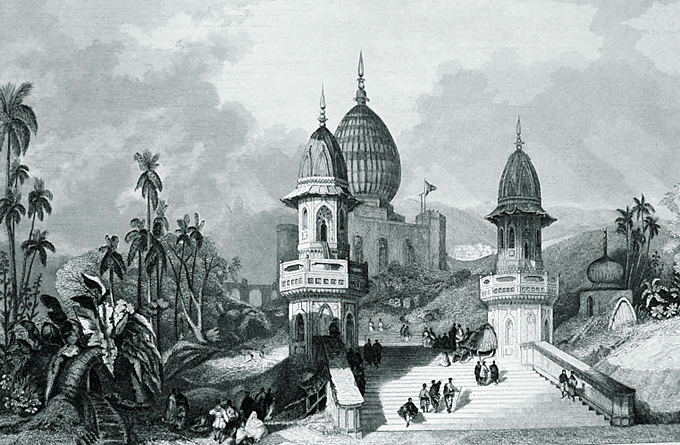 "Great Temple at Gokul [a small town near Mathura]"
From Meyer's Universum, 1848
Text 16

bhutesvaro deva-varah sati-patis
taptva tapo divya-saran-madhor vane
krishna-prasadan nripa-raja sa-tvaram
tasyah pure mathura-mandalasya

O king of kings, Lord Siva, who is the husband of Sati and the best of the demigods, performed austerities in Mathura for an autumn of the demigods. In this way He attained Lord Krishna's mercy and became the gatekeeper of Mathura.

Text 17

krishna-prasadad aham eva caro
bhraman sada mathura-mandalasya
tatha hi durga mathuram prayati
sri-krishna-dasyam prakaroti nunam

By Lord Krishna's mercy I wander everywhere as the person that carries news to Mathura. By Lord Krishna's mercy Goddess Durga comes to Mathura and serves Lord Krishna.

Text 18

taptva tapah sakra-padam ca sakrah
suryo manum nitya-nidhim kuverah
pasi ca pasam samavapya samyan
madhor vane vishnu-padam dhruvas ca

By performing austerities in Mathura, Indra attained his heavenly post, Surya attained Vaivasvata Manu as his son, Kuvera attained eternal wealth, Varuna attained his ropes, and Dhruva attained the realm of Lord Vishnu.

Text 19

tathambarishah samavapa muktim
somo 'kshayam va lavanaj jayam ca
raghus ca siddhim kila citraketus
taptva tapo 'traiva madhor vane ca

By performing austerities in Mathura, Ambarisha attained liberation, Ramacandra became invincible and defated the demon Lavana, Raghu attained perfection, and Citraketu also attained perfection.

Text 20

taptva tapo 'traiva madhor vane subhe
bhutva balishthas ca madhur mahasurah
sri-madhave masi ca madhavena
yuyodha yuddhe madhusudanena sah

By performing austerities in beautiful Mathura, the great demon Madhu became very powerful. In the month of Madhava (April- May), he fought with Lord Krishna, who later became known as Madhusudana (the killer of Madhu).

Text 21

saptarshayah sri-mathuram sametya
taptva tapo 'traiva ca yoga-siddhim
prapuh pare vai munayah samantad
gokarna-vaisyo 'pi maha-nidhim ca

By performing austerities in Mathura, the seven sages and other sages also attained the perfection of yoga, the vaisya named Gokarna attained great wealth.

Text 22

taptva tapo 'traiva madhor vane subhe
vijitya devan divi loka-ravanah
nidhaya rakshamsi vidhaya mandiram
asthaya lankam viraraja ravanah

By performing austerities in beautiful Mathura, the demon Ravana conquered the demigods, made the wrolds scream in pain, conquered the demons, and built a great city in Lanka.

Text 23

taptva tapo 'traiva madhor vane subhe
gajahvayeso mithilesah santanuh
lebhe sutam bhishmam ativa sattamam
tattvartha-varan nidhi-karnadharakam

By performing austerities in beautiful Mathura, Santanu, the king of Mithila and Hastinapura, attained as his son the great saint Bhishma, who was the captain of the ship to cross the ocean of truth.

Text 24

sri-bahulasva uvaca

mathurayas ca mahatmyam
vada devarshi-sattama
nivase kim phalam proktam
mathurayah satam nrinam

Sri Bahulasva said: O best of the demigod-sages, please tell me the glories of Mathura. What result do the devotees obtain by living in Mathura?

Text 25

sri-narada uvaca

adau varaho dharanim nimagnam
maha-jale projjhita-vici-sanke
sva-damstryoddhritya kariva padmam
karena mahatmyam idam jagada

Sri Narada said: As an elephant holds a lotus flower in its trunk, so in the beginning of creation Lord Varaha lifted with His tusks the earth plunged in the great ocean filled with waves. Lord Varaha then spoke the glories of Mathura.

Text 26

bruvan jano nama phalam harer labhec
chrinval labhet krishna-katha-phalam narah
sprisan satam sparsana-jam madhoh puri
jighrams tulasya dala-gandha-jam phalam

By speaking the name "Mathura" one attains the same result as chanting the holy name of Lord Krishna. By hearing the glories of Mathura one attains the same result as hearing the glories of Lord Krishna. By touching Mathura one attains the same result as touching the great devotees. By smelling the fragrance of Mathura one attains the same result as smelling the fragrance of Srimati Tulasi-devi's leaves.

Text 27

pasyan harer darsana-jam phalam svato
bhakshams ca naivedya-bhavam rama-pateh
kurvan bhujabhyam hari-sevaya phalam
gacchal labhet tirtha-phalam pade pade

By seeing Mathura one attains the same result as seeing Lord Krishna. By eating prasadam in Mathura one attains the same result as eating prasadam offered to Lord Krishna, the husband of the goddess of fortune. By serving Mathura with one's arms one attains the same result as serving Lord Krishna. By walking in Mathura one attains at every step the same result as visiting many holy places of pilgrimage.


Text 28

rajendra-hanta nija-gotra-ghataki
trailokya-hantapi ca koti-janmasu
rajan chrinu tvam mathura-nivasato
yogisvaranam gatim apnuyan narah

O king please listen. A sinner who in millions of lives again and again kills many saintly kings, his own relatives, and numberless other victims in the three worlds, by residing in Mathura attains the destination of the kings of the yogis.

Text 29

padau ca dhig yau na gatu madhor vande
drisau ca dhig ye na kadapi pasyatah
karnau ca dhig yau srinuto na maithila
vacam ca dhig ya na karoty alam manak

Pitiable are the feet that have never walked in Mathura! Pitiable are the eyes that have never seen Mathura! Pitiable are the ears that have never heard of Mathura! Pitiable is the voice that will not glorify Mathura!

Text 30

dvi-sapta-kotini vanani yatra
tirthani vaideha samasthitani
ekaikam eteshu vimukti-dani
vadami sakshan mathuram namami

I tell you that in Mathura are fourteen forests that contain many holy places. Each of these holy places grants liberation. I bow down to offer my respectful obeisances to Sri Mathura.

Text 31

goloka-nathah paripurna-devah
sakshad asankhyanda-patih svayam hi
sri-krishna-candro 'vatatara yasyam
tasyai namo 'nyasu purisu kim va

Sri Krishnacandra, who is the perfect Supreme Personality of Godhead, the master of Goloka-dhama, and the master of numberless universes, personally descended to this world in the city of Mathura. I offer my repsectful obeisances to Sri Mathura. What other city can compare with Mathura?

Text 32

yan-nama papam vinihanti tat-kshanam
bhavaty alam yam grinuto 'pi muktayah
vithishu vithishu ca muktir asyas
tasmad imam sreshthatamam vidur budhah

The holy name of Mathura kills all sins in an instant. One who chants the name of Mathura finds liberation waiting for him on every path. For this reason the wise say Mathura is the best of holy places.

Text 33

kasy-adi-puryo yadi santi loke
tasam tu madhye mathuraiva dhanya
ya janma-maunji-vrata-mrityu-dahair
nrinam caturdha vidadhati muktim

If Varanasi and the other holy cities of the world were to meet, Mathura would be the most glorious of them. Mathura gives liberation to they who are born, accept spiritual initiation, die, or are cremated within her borders.

Text 34

purisvarim krishna-purim vrajesvarim
tirthesvarim yajna-tapo-nidhisvarim
moksha-pradam dharma-dhurandharam param
madhor vane sri-mathuram namamy aham

I offer my respectful obeisances to exalted Sri Mathura, the queen of cities, the city of Lord Krishna, the queen of Vraja, the queen of holy places, the queen of yajnas, austerities, and opulences, the giver of liberation, the protector of religion.

Text 35

srinvanti mahatmyam idam madhoh pure
krishnaika-citta niyatas ca yatra ye
vrajanti te tatra parikramat phalam
vaideha rajendra na catra samsayah

O master of Videha, O king of kings, they who, controlling their senses and fixing their thoughts on Lord Krishna, hear this description of Mathura's glories, attain the same result attained by circumambulating Sri Mathura. Of this there is no doubt.

Text 36

khandam tv idam sri-mathura-purasya ye
srinvanti gayanti pathanti sarvatah
ihaiva tesham hi samriddhi-siddhayo
bhavanti vaideha nisargatah sada

They who hear, chant, or read this Sri Mathura-khanda become eternally perfect.

Text 37

trih-sapta-kritvo bahu-vaibhavarthinah
srinvanti cainam niyatas ca ye bhrisam
tesham griha-dvaram alankaroti hi
bhringavali kunjara-karna-tadita

They who, desiring great wealth, control their senses and twenty-one times hear this Sri Mathura-khanda, find an elephant's ear of of the bees of transcendental wealth and opulences decorating their doorways.

Text 38

vipro 'tha vidvan vijayi nripatmajo
vaisyo nidhiso vrishalo 'pi nirmalah
srutvedam arac ca manoratho bhavet
strinam jananam ati-durlabho 'pi hi

By hearing this Sri Mathura-khanda a brahmana becames wise and learned, a kshatriya becomes victorious in battle, a vaisya becomes the master of great wealth, and a sudra becomes pure- hearted. Whatever difficult-to-attain thing any man or woman desires, they will attain.

Text 39

nishkarano bhakti-yuto mahi-tale
srinoti cedam hari-lagna-manasah
vijitya vighnan pravijitya nakapan
goloka-dhama-pravaram prayati sah

A person on this earth who is engaged in unmotivated devotional service, whose thoughts rest on Lord Krishna, and who hears this Sri Mathura-khanda, travels past the homes of the demigods and enters the transcendental abode of Sri Goloka.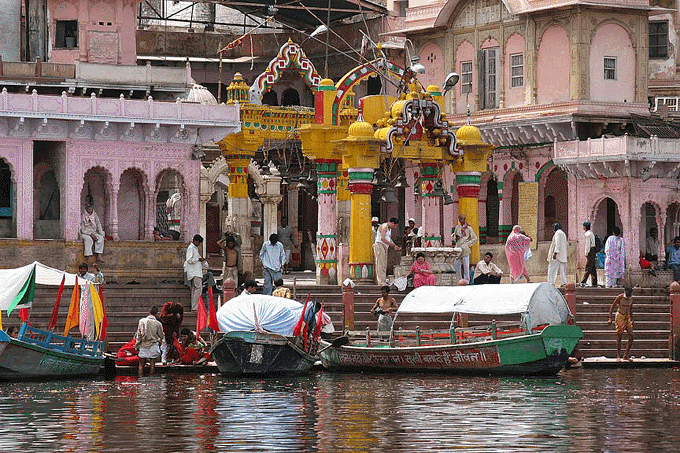 Bangali Ghat – Modern Mathura
[Photo courtesy IndiaMike.com]
Post view 32 times from March 2020