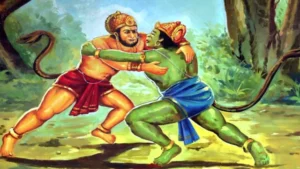 Together they prepared the plan to challenge and defeat Vali.
"My brother is too strong to be dealt with fairly," Sugriva immediately said. "We have to find a way avoiding coming face to face with him."
"I have an idea," Rama retorted. "We could do that. You will challenge him in combat. I will hide nearby, and while you are fighting and he is distracted, I will hit him."
Rama saw in Sugriva's face the terror of having to face his brother, even if for a few minutes.
"Do not fear for your life; I will not betray you, I will intervene soon."
Sugriva was not at all enthusiastic about the plan, but he had full faith in Rama. So, he accepted the idea and they immediately left for the city.
When they arrived, Sugriva went under the walls and began to shout calling his brother and challenging him to a duel. Vali heard the screams and was surprised at his brother's temerity. He rushed out of the building and ran towards Sugriva. Rama, hidden behind a tree, watched the scene. He immediately admired Vali's tall, agile, and powerful figure and regretted having to kill him.
The two brothers threw themselves against each other and fought furiously, unrestrictedly. Rama immediately placed an arrow in the bow, but he could not distinguish one from the other because they were very much alike. He preferred not to risk making a fatal mistake.
Meanwhile, Sugriva was not well and wondered what Rama was waiting for to intervene. Wounded, bleeding, battered and as usual defeated by his brother, Sugriva could not take it anymore and withdrew. Upon reaching Rama's hideout, Sugriva was visibly terrified. He was panting.
"But, what happened?" he questioned. "Why didn't you intervene? Vali almost killed me."
"I couldn't do anything," replied the prince. "The two of you are so similar to each other that it is impossible to tell apart. Put this garland around your neck and go back to challenge Vali. This time I will get involved immediately."
This is a section of the book "The Ramayana", in English.
Post view 246 times