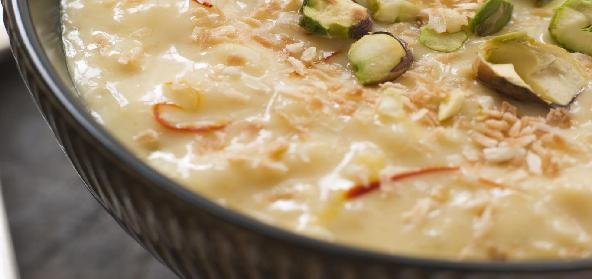 Two Kheer recipes one special the other easy.
Special
1⁄2 C basmati rice or any long grain rice
8 C whole milk
A pinch saffron
1⁄2 Tsp cardamom powder
11⁄4 C sweetened condensed milk
1 Tsp ghee
1 Tbsp chopped cashews
2 Tbsp raisins
1 Tbsp chopped pistachios nuts
1.Wash the rice thoroughly in cold water, drain and keep aside.
2. In a heavy-bottomed saucepan bring the milk to a boil over moderately high
heat. Then reduce the heat to low and stirring often cook for 45 minutes.
3. Add the rice and continue to stir often until the milk is reduced to almost 2/3
of its original volume and the rice is fully cooked.
4. Add the saffron and cardamom. Stir in the sweetened condensed milk.
Remove from heat after 5 minutes.
5. Heat ghee in a small sauté-pan over moderate heat, fry the cashews until
golden. Remove cashews from the pan, and in the remaining ghee fry the raisins until they swell up and then add both cashews and raisins to the sweet rice. Serve hot or cold garnished with chopped pistachios.

Easy
5 Cups milk, full cream

1/4 cup rice (washed)

1/2 cup sugar

10-12 Raisins

4 Green cardamoms

10-12 almonds (shredded), blanched
1.
Boil the rice and milk in a deep pan.
2.
Simmer over low flame, stirring occasionally till the rice is cooked and the milk becomes thick.
3.
When done add sugar, raisins and cardamoms.
4.
Stir till sugar gets dissolved properly.
5.
Transfer into a serving dish and garnish with almonds
Post view 515 times