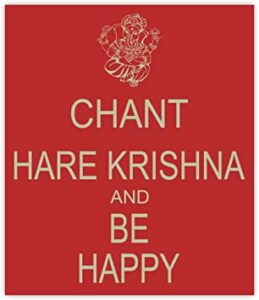 Pregunta
Una de las diez ofensas al canto del maha mantra es comentar acerca de las glorias del canto del santo nombre a personas que carecen de fe. Entonces como conciliar esto con la necesidad de predicar a las personas ?
Respuesta
La novena ofensa al cantar el Maha Mantra Hare Krishna dice:
asraddadhane vimukhe 'py asrnvati
yas copadesah siva-namaparadhah
"Instruir a una persona carente de deseo y reluctante acerca de las glorias del Santo Nombre es una offensa."
Por otro lado, Sri Caitanya Mahaprabhu dijo:
pṛthivīte āche yata nagarādi grāma
sarvatra pracāra haibe mora nāma
"En cada pueblo y aldea, se escuchará el canto de Mi nombre".
Cómo reconciliar esta contradicción?
No lo es.
En Caitanya Caritamrita Adi-lila (8.24) Srila Prabhupada aclara este punto:
"Es una ofensa predicar las glorias del santo nombre entre personas que no tienen inteligencia ni fe en el tema. A esas personas se les debe dar la oportunidad de escuchar el canto del mantra Hare Kṛṣṇa, pero al principio no se les debe instruir acerca de las glorias o el significado espiritual del santo nombre. Al escuchar constantemente el santo nombre, sus corazones se purificarán y entonces podrán comprender la posición trascendental del santo nombre".
De este modo lo que se considera una ofensa es dar instrucciones demasiado profunda o significados íntimos sobre las glorias del Santo Nombre, como los pasatiempos personales de Radha y Krishna y cosas por el estilo.
De seguro nuestro primer y principal deber es de propagar el Canto del Mantra Hare Krishna "en cada pueblo y aldea".
This is a section of the book "On a Silver Platter".
Post view 335 times