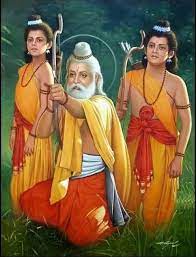 On their wanderings, one day Kusha and Lava arrived in Ayodhya and began chanting the Ramayana in the streets of the fabulous city. As soon as King Rama learned that the two singers had arrived in his capital, he wanted to see them ignoring that they were his own children. He summoned them to the arena where he was conducting a great sacrifice and, when the two young men entered, he admired their grace and nobility of bearing.
"Your fame and the story you tell," Rama told them, "have come to my knowledge. Everyone talks about it with great enthusiasm. I have been told that the composer is the venerable Valmiki Muni, one of the greatest and most honored erudites that exist. You can understand my curiosity. Please recite it here in front of me; sing the story of which I, myself, was the protagonist."
And so, Kusha and Lava began to sing the great poem, the Ramayana.
This is a section of the book "The Ramayana", in English.
Post view 487 times