(Parrots praise Radha and Krsna)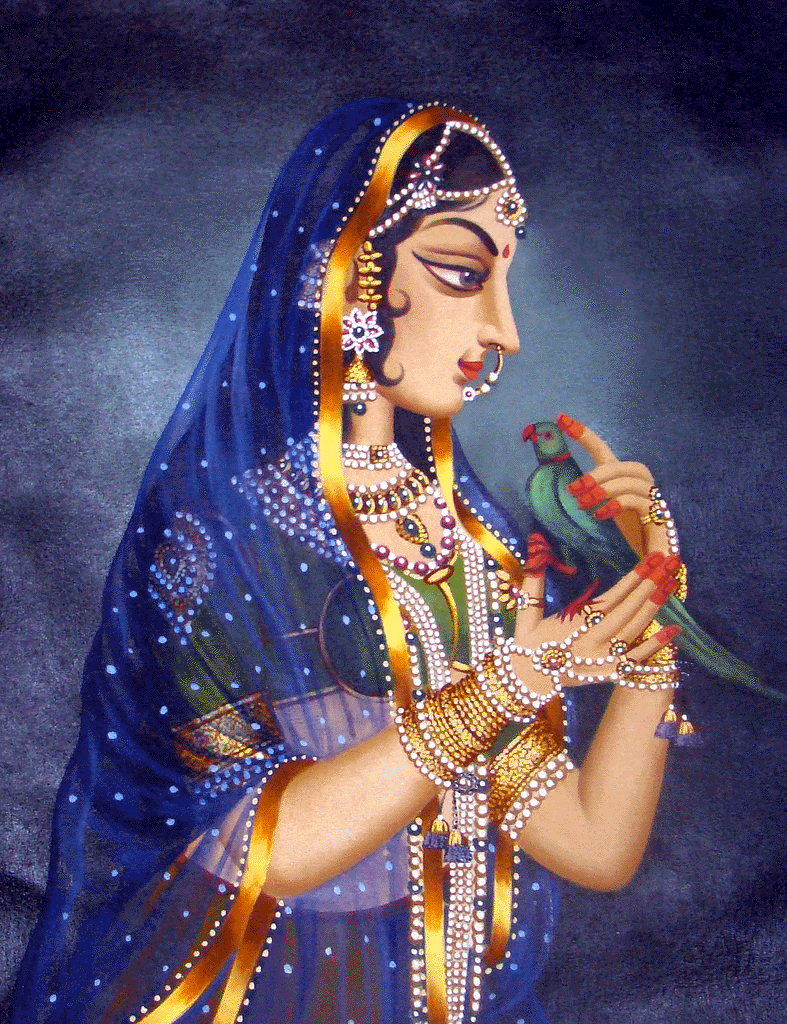 Part Nine.
Chapter One
Text 98
lolendukanta-mani-golaka-baddha-cancad-
indrasma-golaka-samana-kaninike ye
antar-bhramad-bhramara-phulla-sitabja-kosa-
saubhagya-garva-bhara-khandana-pandite ca
lola-moving; indukanta-mani; of moonstones; golaka-balls; baddha-bound; cancat-moving; indrasma-sapphire; golaka-balls; samana-like; kaninike-pupils; ye-that; antah-within; bhramat-moving; bhramara-bumble-bees; phulla-blossoming; sita-white; abja-of the lotuys flower; kosa-whorl; saubhagya-good fortune; garva-pride; bhara-abundance; khandana-breaking; pandite-learned; ca-also.
Text 99
prante 'runimna paritah sitimna
madhye 'sitimna ca yute vilole
sobha-sriyah kanduka-golake te
su-citrite sri-vidhi-karuna kim
prante-in the corners; arunimna-reddness; paritah-around; aitimna-whiteness; madhye-in the middle; asitimna-blackness; ca-also; yute-endowed; vilole; moving; sobha-sriyah-of beauty; kanduka-golake-two balls for playing; te-they; su-very; citrite-wonderful; sri-vidhi-of the creator Brahma; karuna-the mercy; kim-is it so?
How merciful is the creator Brahma expertly to make for personified handsomeness these two toy balls, red on the edges, white within, and black in the center!
Text 100
lavanya-sara-samudaya-sudhati-varsaih
karunya-sara-nicayamrta-nirjharoghaih
kandarpa-bhava-visaramrta-vanyaya ca
samplavya sarva-jagad ullasati samantat
lavanya-of beauty; sara-of the essence; samudaya-abundance; sudha-of nectar; ati-varsaih-with the monsoon rains; karunya-of mercy; sara-of the essence; nicaya-of the abundance; amrta-of nectar; nirjhara-of the gushing mountain stream; oghaih-with the floods; kandarpa-of cupid; bhava-of the love; visara-of the abundance; amrta-of nectar; vanyaya-with the inundation; ca-also; samplavya-having slooded; sarva-the entitre; jagat-universe; ullasati-is splendidly manifest; samantat-in all directions.
Flooding the world with monsoons of nectar handsomeness, gushing streams of nectar mercy, and a flood of nectar love, Krsna's eyes shine with great glory.
Text 101
atyayate su-vipule masrne su-sone
su-snigdha-pina-ghana-cancala-paksma-ramye
tarunya-sara-mada-ghusrna-manthare ca
netre harer mama hrdi sphuratam sada te
ati-ayate-wide open; su-vipule-large; masrne-beautiful; su-sone-nicely reddish; su-snigdha-glistening; pina-large; ghana-of clouds; cancala-moving; paksma-eyelashes; ramye-delightful; tarunya-of youthfulness; sara-the essence; mada-ghusrna-of saffron; manthare-two treasures; ca-also; netre-the two eyes; hareh-of Lord Hari; mama-my; hrdi-in the heart; sphuratam-may become; manifested; sada-eternally; te-they.
Large, wide-open, handsome, red, charming with glossy, thick, restless eyelashes, and opulent with the saffron of youth and passion, may Lord Hari's eyes always appear in my heart.
Text 102
sadhvi-sva-karma-drdha-dharma-vibheda-daksa-
kamesu-tiksna-kathino vilasaty aghareh
svapne 'pi durlabha-samasta-daridra-gosthi-
vanchabhipurana-vadanya-varah kataksah
sadhvi-of the pious gopis; sva-own; karma-of activities; drdha-firm; dharma-religious duties; vibheda-breaking; daksa-expert; kama-of cupid; isu-arrows; tiksna-sharp; kathinah-and hard; vilasati-is spkendidly manifest; agha-areh-of Lord Krsna, the enemy of Agha; svapne-in dream; api-even; durlabha- difficult to attain; samasta-all; daridra-gosthi-of the poor conditioned souls; vancha-desires; abhipurana-fulfilling; vadanya-generous; varah-best; kata-aksa-sidelong glances.
Sharp and hard as Kama's arrows, expert at breaking the pious gopis' firm chastity, and generously giving charity beyond what the poor can dream, Lord Krsna's sidelong glance is splendidly manifest.
Text 103
ya visva-yauvata-vilola-manah-kurangan
avidhya ghurnayati nartana-marganaih svaih
sa bhru-lata mura-ripoh kutilapi kirtya
kandarpa-puspa-trnatam trnatam ninaya
ya-that; visva-of the universe; yauvata-of the young girls; vilola-moving; manah-of the minds; kurangan-the deer; avidhya-piercing; ghurnayati-cause to writhe; nartana-dancing; margaih-with motions; svaih-own; sa-that; bhru-of the eyebrows; lata-creeper; mura-ripoh-of Lord Krsna, the enemy of the demon Mura; kutila-curved; api-even; kirtya-with its fame; kandarpa-of cupid puspa-trnatam-the flower-bow; trnatam-to the state of being as insignificant and a blade of grass; ninaya- led.
The curving vine of Krsna's eyebrows, which by their fame alone make Kama's flower-bow insignificant as a blade of grass, with many dancing arrows wound the deer of the young gopis' hearts and make them stagger and writhe.
Text 104
kim kaliyena haraye sva-suta visrsta
tenarpita bhruvi hriyapa tad-atmatam ya
sapatnyato vraja-vadhu-hrdayani sarpi
drstvaiva sa vitanute 'tra vimurchitani
kim-how is it?; kaliyena-by Kaliya; haraye-to Lord Hari; sva-sutas-his daughters; visrsta-given; tena-by him; arpita; placed; bhruvi-between the eyebrows; hriya-shyly; apa-attained; tat-atmatam-His own mark; ya-who; sapatnyatah-out of rivalry; vraja-of Vraja; vadhu-the girls; hrdayani-the hearts; sarpi-the snake; drstva-having seen; eva-indeed; sa-she; vitanute-made; atra-in this connection; vimurchitani-fainted.
Why, when they saw the serpent daughters Kaliya gave to Lord Hari shyly attain the Lord's mark on their eyebrows, did the vraja-gopis' hearts faint with envy?
Text 105
cilli-latalaka-varuthaka-ramya-parsvam
karsnastami-sasi-nibham giri-dhatu-citram
radha-mano-harina-bandhana-kama-yantra-
kasmira-caru-tilakam hari-bhalam ide
cilli-of the eyebrows; lata-creeper; alaka-of curling locks of hair; varuthaka-multitude; ramya-charming; parsvam-sides; krsna-astami-on the eight day of the waning moon; sasi-the moon; nibham-like; giri-of Govardhana Hill; dhatu-with the mineral pigments; citram-colorfully decorated; radha-of Srimati Radharani; manah-of the mind; harina-the deer; bandhana-for binding; kama-cupid's; yantram-rope; kasmira-made of kunkuma- caru-beautiful; tilakam-with tilaka markings; hari-of Lord Hari; bhalam-the forehead; ide-I praise.
I glorify Lord Hari's forehead, bounded by His curling locks of hair and the two vines of His eyebrows, splendid as the Krsnastami moon, decorated with colorful designs and pictures drawn in Govardhana's mineral pigments, and bearing splendid kunkuma tilaka that is Kamadeva's trap to catch the deer of Radha's heart.
Text 106
alaka-madhupa-mala srila-bhaloparisthad
vilasati lalita ya ballavi-vallabhasya
nayana-saphara-bandhe jalatam angana_nam
alabhata kila seyam kama-kaivartakasya
alaka-of curling hairs; madhupa-of bumble-bees; mala-swarm; srila-beautiful; bhala-forehead; uparisthat-above; vilasati- is splendidly manifest; lalita-charming; ya-that; ballavi-of the gopis; vallabhasya-of the dear lover; nayana-of the eyes; saphara-the saphari fishes; bandhe-for catching; jalatam-the state of being a fishing net; angana_nam-of the girls of Vraja; alabhata-attained; kila-indeed; sa iyam-that; kama-of cupid; kaivartakasya-of the fisherman.
The graceful black bee garland of locks of hair that plays above Lord Gopinatha's forehead has become a great net where the fisherman Kamadeva catches the saphari fishes of the gopis' eyes.
Text 107-108
slaghyayato bhramara-ganjana-cikkanabhah
suksmah su-kuncitataro 'ti-ghanah samagrah
kasturika-yug-asitotpala-gandha-hrdyah
kama-dhvajasita-su-camara-caru-sobhah
cuda-dviphala-kavarardhaka-juta-veni-
jutadi-kala-krta-bandha-visesa-ramyah
yo hrt-sudha-ruci kurangati radhikayas
citte sa nah sphuratu kesava-kesa-pasah
slaghyayatah-glorious; bhramara-bumble-bees; ganjana- chastizing; cikkana-glistening; abhah-appearance; suksmah- fine; su-very; kuncitatarah-curly; ati-very; ghanah-thick; samagrah-all; kasturika-with musk; yuga-endowed; asita-blue; utpala-lotus flower gandha with the fragrance; hrdyah-charming; kama-of cupid; dhvaja-the flag; asita-black; su-splendid; camara-of a camara fan; caru-beautiful; sobhah-splendor; cuda- of the crest; dvi-two; phala-sides; kavara-of strands of hair; ardhaka-half; juta-veni-of hair; juta-locks of hair; adi- beginning with; kala-black; krta-done; bandha-bond; visesa- specific; ramyah-delightful; yah-that; hrt-of the heart; sudha-ruci-on the moon that is full of nectarean effulgence; kurangati-has become a deer; radhikayah-of Srimati Radharani; citte; in the mind; sah-that hair; nah-of us; sphuratu-may be manifested; kesava-of Lord Krsna; kesa-pasah-the locks of hair.
May Lord Kesava's hair: fine, thick, glorious, curling, glistening with a luster that rebukes the black bees' splendor, aromatic as a blue lotus flower anointed with musk, splendid as Kamadeva's flag and black camara, gracefully parted, and now become a deer-mark on the nectar moon of Radhika's heart, appear before us.
Note: In Sanskrit literature the shadows on the moon are considered to resemble a deer. For this reason Lord Krsna's hair is compared to the "deer in the moon".
Text 109
apara-madhurya-sudharnavani
nana_nga-bhusa-caya-bhusanani
jagad-drg-asecanakani saurer
varnyani nangani sahasra-vaktraih
apara-limitless; madhurya-of sweetness; sudha-of nectar; arnavani-oceans; nana-various; anga-of the limbs; bhusa-of the ornaments; bhusanani-decorations; jagat-of the entire universe; drk-of the eyes; asecanakani-sprinkling nectar; saureh-of Lord Krsna; varnyani-describeable; na-not; angani- the limbs; sahasra-vaktraih-by Lord Ananta, who has thousands of mouths.
Even Lord Ananta with His thousands of voices cannot describe Lord Krsna's limbs, which are limiltless oceans of nectar sweetness, which decorate their ornaments, and which shower nectar on all eyes.
Note: Lord Krsna's limbs are so handsome that they decorate the ornaments instead of being decorated by them.
Text 110
itirayitva virate sukese
sa-sarike gadgada-ruddha-kanthe
tad-vak-sudhambhodhi-nimagna-citta
ksanam sabha sa stimita tadasit
iti-thus; irayitva-having spoken; virate-stopped; suka-ise-when the king among parrots; sa-with; sarike-the female parrot; gadgada-ruddha-choking in ecstasy; kanthe-when his throat; tat- of him; vak-of the words; sudha-of the nectar; ambhodhi-in the ocean; nimagna-immersed; citta-whose mind; ksanam-for a moment; sabha-the assembly of gopis; sa-that; stimita-stunned; tada-then; asit-became.
Then the two parrots, their voices choked with ecstasy, stopped speaking, and the gopi-audience became momentarily stunned, their minds drowning in the nectar ocean of the parrots' words.
BY: SUN STAFF
Jul 30, 2016 — CANADA (SUN) — A serial presentation of 'Sri Suka-sari-stava' by Srila Krsna das Kaviraja Gosvami –
#SunEdit
Post view 247 times