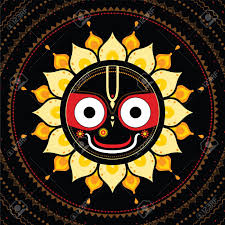 Sri Nathji at Nathdwara is a very important Temple less than an hour distance from Udaipur in Rajasthan. Vajranabha, Lord Krishna's great-grandson installed this deity 5000 years ago. The same Deity (known then as Gopal) was worshiped by Madhavendra Puri at Govardhana in Vraja Mandala. Rana Raj Singh of Mewar brought Sri Nathji to Nathdwara around year 1669 AD. The story of how Gopalji was discovered is described in the Sri Caitanya Caritamrta Madhya-lila Chapter 4. Madhavendra Puri once came to Govardhana and after he went around the hill and began preparing for the evening rest near Govinda Kunda, a local cowherd boy visited him with a pot of milk. The beautiful boy made Srila Madhavendra Puri forget his hunger and thirst. Madhavendra Puri asked the boy how he knew he was fasting. The boy replied that He resided in this vil­lage and in His village no one fasts.
That night in a dream the boy lead Madhavendra to a bush and explained that He was in the bush and suffered from severe cold, heat, rain and wind. So Madhavendra was thus instructed to find the deity with the help of the local villagers. Gopalaji had been hidden in the bushes and was discovered by Madhavendra Puri. Many people came to the place, named Jatipura (meaning "the home of the Yati or jati – the Sanyasi monk" in reference to Madhavendra Puri), to see and worship Gopalaji. Then a member of the royal family constructed a temple for the deity. After some time, the deity appeared in a dream to Madhavendra Puri and ordered him to go to Jagannatha Puri to get sandalwood (candana), which could be used to cool the deity who was still feeling hot from being in the ground for so many years. So Madhavendra left Jatipura to perform this service.
When Madhavendra arrived in the village of Remuna, which is 12km north of Balasore in Orissa, he stopped at the temple of Gopinatha. Here the priests offer a thick sweet milk preparation (Amritakeli) to the deity. Madhavendra wanted to try some to understand how to prepare it so he could make it to offer to Gopalji. Because of his desire to taste the bhoga that was yet to be offered to the deity, he felt that he was a great offender and left the temple immediately. That night the deity spoke to the temple priest in a dream and explained that He had hidden a cup of kheer behind His dress, and the priest should get it and find Madhavendra Puri to give it to him. The priest than went and found the cup of kheer behind the deity's dress. Tak­ing the cup, the priest went and called out for Madhavendra until he found him. Madhavendra became spiritually ecstatic to receive the prasadam. After that, the deity in Remuna became known as Khira-chora-Gopinatha or Gopinatha who stole the sweet rice.
After this Madhavendra went to Jagannatha Puri and got about eight pounds of san­dalwood and some camphor for his deity in Jatipura. On his way back, he again stopped to see Gopinatha at Remuna. That night his deity, Gopalaji, appeared to him in a dream and explained that there was no difference between His body and the body of Gopinatha in Remuna. Therefore, smearing the sandalwood on the body of Gopinatha would be the same as smearing it on the body of Gopalaji and His body would be cooled. So Madhav­endra did this every day until all the sandalwood and camphor was finished. A few months later Madhavendra Puri left this world and his Samadhi tomb is located in Remuna a few minutes away from the Khira-cora-Gopinatha temple.
After the disappearance of Madhavendra Puri from this world, the worship of Lord Gopalaji at Jatipura was taken over by Srila Vallabhacarya, who had been initiated in the disciplic succession coming from Sri Vishnuswami. It was during this time that Gopalaji started being called Sri Nathji by the devotees.
As with other deities who were moved from Vrindavana to escape the fanatic Muslim Aurangzeb's destruction of Hindu temples, Lord Sri Nathji was moved to the land of Mewar from Jatipura. The deity was first moved to Agra where the devotees kept Him in secret for six months, and then moved Him further west. As the deity was being moved, He reached the spot at village Sihad or Sinhad, the wheels of bullock cart in which the deity was being transported sank axle-deep in mud and could not be moved any further. The accompanying priests realized that the particular place was the Lord's chosen spot and accordingly, a temple was built there under the rule and protection of the then Maharana Sri Raj Singh. This is the place that later developed into the village of Nathdwara. This Gopalji deity was later termed as Sri Nathji.
In and around Nathdwara there are several very important Temples to worth visiting. Sri Vitthal Nathji, Yamunaji, Sri Madan Mohan Ji, Banamali Ji and Mira Bai Temple are in Nathdwara itself very close to Sri Nathji main Temple. Town of Chittorgarh is about 2 hours from Nathdwara. Here this is very important temple of where celebrated Mira Bai (as mentioned purport of Srimad-Bhagavatam 2.3.15), a staunch devotee of Lord Krishna worshipped her deities, Giridhar Gopal, as the great lifter of Govardhana Hill. The famous three temples of Sri Seth Sawariya Ji are at short distance from Chittorgarh. Nearby in the city of Udaipur there is famous Sri Jagdish Temple and ISKCON Udaipur. In Kankroli, 18 km north of Nathdwara, there is temple of Lord Dwarkadisha. This deity came from Mathura where He was worshiped thousands of years ago by the great devotee King Ambarisha. Charbhujaji temple is 36km from Kankroli, which has a deity of Lord Krishna in His four-handed form.
Nathdwara is 1 hour drive from Udaipur. Udaipur is the near airport and is well connected with rest of India by rail, bus and air.
Temples in and around Nathdwara:
1. Sri Nathji Temple, Nathdwara
2. Mira Bai Temple, Chittorgarh
3. Sri Sanwaliya Seth Temple (Murti Prakatya Sthal)
4. Sri Sanwaliya Seth Temple at Bhadsoda Gaon (Prachin Mandir)
5. Sri Sanwaliya Seth Temple at Mandaphiya
6. Sri Dwarkadisha Temple at Kankroli Ji
7. Sri Charbhuja ji Temple
8. Sri Rup Narayan ji Temple
9. Sri Jagdish Temple at Udaipur
10. Hare Krishna (ISKCON) Udaipur
11. Sri Eklinga Ji Temple
12. Sri Vitthal Nath Ji Temple
13. Sri Yamuna Ji Temple
14. Sri Madan Mohan Ji Temple
15. Sri Banamali Ji Temple
16. Sri Navneet Priya Ji Temple
17. Sri Nathji Goshala