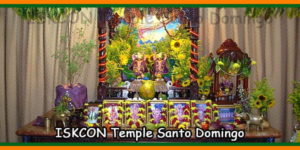 Hare Krishna, dear devotees and friends. Please accept my most respectful obeisance. All glories to Srila Prabhupada.
For those who do not know me, my name is Manonatha Dasa and for over twenty years I have been carrying out my service as a preacher of Krishna Consciousness mainly in the Spanish-speaking area of Latin America.
With this video message I wish to send you a request, which I hope you will welcome in many.
I have visited the Dominican Republic many times and have come to know and appreciate the place, the people in general and the devotees. These are the sweetest and kindest people you can hope to meet in your life.
Our Movement there, Iskcon Dominican Republic, has existed and operated for over 40 years and has done great things but has not yet managed to buy a property where to build a temple and thus host its deities Sri Sri Gaura Nitai. So we believe the time has come to take this step and to do this we need all of you, your donations.
Contribute generously and there is no doubt that Srila Prabhupada and all of our deities, Sri Sri Gaura Nitai, Sri Sri Radha Krishna, will be delighted with your service.
Doing so is very easy: go up
https://iskconsd.com
and send your donation.
We count on it
Hare Krishna
Post view 150 times